Bed Bug Treatment in Detroit
Finding bed bugs in your home can feel like a nightmare, but there's nothing to worry about with All Seasons Pest Control on your side. We use heat and liquid treatments to target pests no matter where they're hiding, including deep in the creases of your mattress, along baseboards, and between carpet fibers. Get a free quote on our bed bug treatment in Detroit today!
When you partner with us for bed bug control, we will:
Complete a thorough inspection to search every corner of your home for pests.

Check to make sure each room is properly prepared for treatment.

Use heat treatments to eliminate bugs in hard-to-reach places.

Target baseboards, window and door frames, and furniture with liquid applications.

Follow-up as needed to make sure you see results.
Custom Services for the Best Results
No two infestations are the same, so no two treatments should be either! We take the time to get to know your home's current conditions, listen to your concerns, and create a custom treatment plan just for you. We'll even try and help you figure out how bed bugs got inside so it's easier to prevent future problems.
Our Follow-Up Process
We know our treatments work, and you should feel just as confident! We've been providing bed bug treatment in Detroit since 1986, so we know the best products and treatment methods. If you do see bed bug activity after seven days, our exterminators will come back and re-treat at a discounted price. This offer is good for 30 days after your initial treatment.
How to Prepare for Your Bed Bug Treatment
Our technicians will get rid of bed bugs, but we need some help from you first. For our treatments to be as effective as possible, we ask that you do a few simple things before our arrival. If you have any questions about these requirements, let us know, and we'll be happy to explain! Your to-do list includes:
Removing all bedding and sheets from mattresses.

Placing bedding and clothing in the dryer for 20 minutes on the highest heat setting possible, then sealing the fabrics in plastic bags.

Removing all items from under beds to ensure proper airflow.

Moving all furniture several inches away from the walls.

Clearing out closets, including hanging clothes, items on shelves, and items on the floor.

Removing dresser drawers and placing them on the floor.

Taking the dust cloth cover off your box spring or giving us permission to do so.
Make sure to download our Bed Bug Preparation Instructions for more information!
Go Have Fun, We'll Treat While You're Gone
To keep everyone safe, we ask that you stay out of your home for 2-4 hours after treatment. That's the perfect amount of time to grab lunch, see a movie, or do something else fun while our Detroit exterminators are hard at work. If you have pets, don't forget to take them with you! This includes tank animals like lizards or fish. We recommend pregnant people stay out for 24 hours.
Image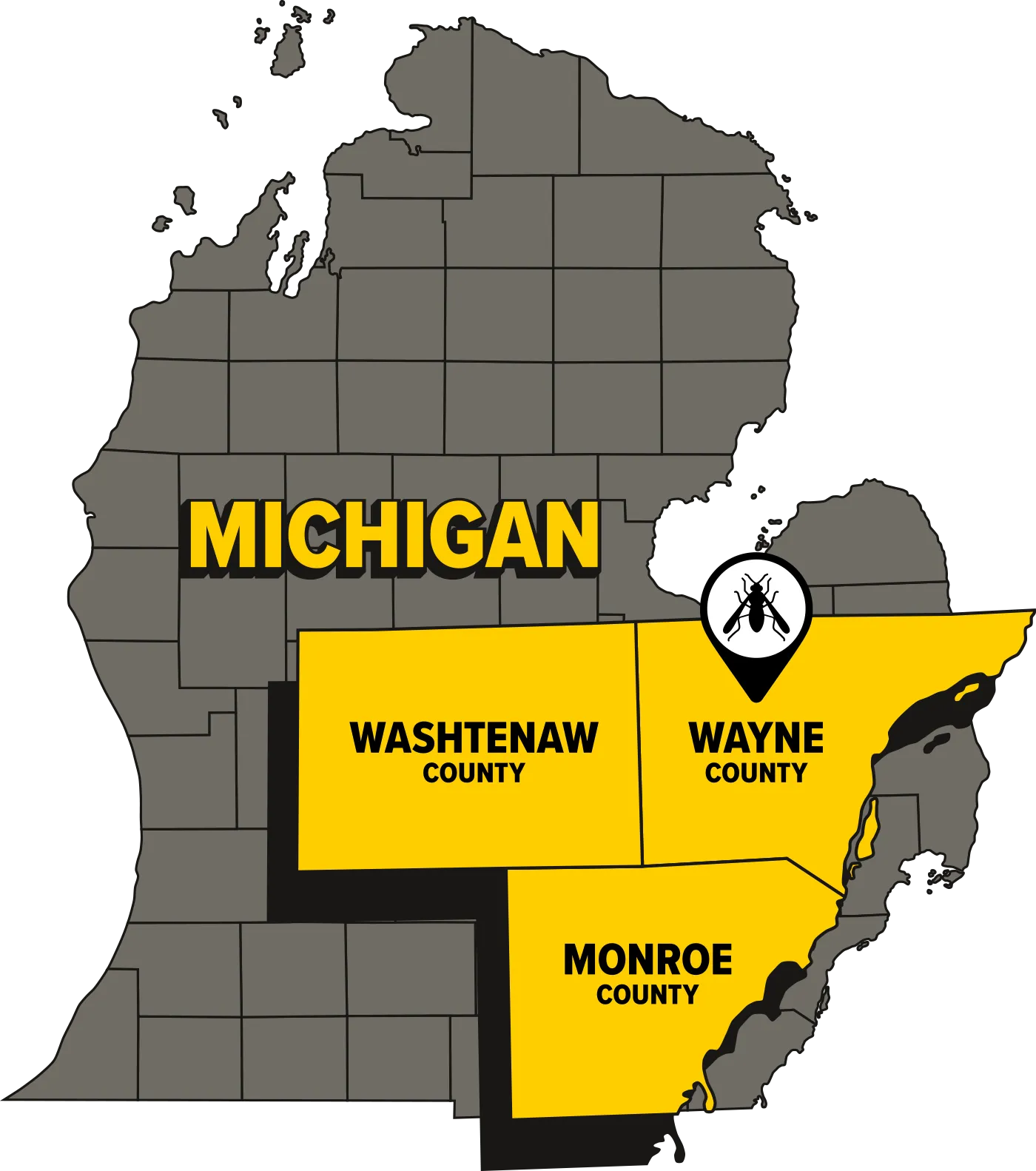 Bed Bug Treatment Service Area
As a family-owned and operated company, we take great pride in serving our community. For bed bug control you can trust, give us a call! We service: