Rodent Control in Detroit
Rats and mice don't belong in your home! Not only do these pests make you uncomfortable, but they also carry disease, damage your belongings, and increase your risk of a house fire. For the reliable service you need, trust All Seasons Pest Control. We'll get rid of rodents for good, so you never have to worry about them sneaking inside again.
Guaranteed Results for Your Peace of Mind
When it comes to rodents, you need a company you can rely on- you need All Seasons! We've been providing rodent control in Detroit since 1986, so we have almost four decades of experience under our belt. That means we can tackle your infestation, no matter how big or intimidating it may seem. But you don't have to take our word for it! We offer a satisfaction guarantee, which includes free re-treatments if you're not completely happy.
Comprehensive Rodent Removal
It's easy to accidentally attract rats and mice onto your property. Seemingly harmless things like leaky pipes or a cluttered garage can act as an invitation. While it's easy to start an infestation, it's not nearly as simple to get rid of it. That's why we've worked hard to create a removal plan that really works! Each visit is customized to your property's unique needs to ensure you see results as soon as possible.
When you partner with us for rodent control in Detroit, we will:
Carefully inspect your home to look for entry points and nesting sites.

Install tamper-proof boxes inside and outside as needed.

Place bait in the attic and crawl space to target hard-to-reach critters.

Repair entry points to stop future infestations from crawling inside.

Give you our six-month guarantee to ensure you see results.
Family-Friendly Treatments
Setting traps inside your home is stressful, especially if you have kids or pets. That's why our mice and rat exterminators don't use traditional snap traps! Instead, we use tamper-proof boxes. They're weighted so they won't get knocked over, and they're incredibly difficult to open on accident. This ensures they only affect rodents, keeping your family unharmed. It's the safest approach possible!
Speedy Same-Day Service
You don't get a warning before rats and mice move in, so an infestation can happen at any time. To make sure we're always ready to help, we offer same-day services. Simply give us a call before noon, and our Detroit exterminators will be there in just a few hours, ready to start treatment and kick rodents out for good. Unsure if you need our services? Here are common signs of a rodent infestation—if any of these sound familiar, don't hesitate to give us a call:
Gnaw marks: Their teeth are always growing, so rodents are always gnawing on things to help file them down. This causes marks on things like furniture or food packages.
Droppings: Rodent droppings are dark and small, about the size of a grain of rice. They're usually found in the pantry, closet, crawl space, or other secluded areas.
Scratching noises: These critters are nocturnal, so you can hear them running around behind your walls or in the attic while you're trying to go to sleep at night.
Smudge marks: As they scurry around, rodents bump into things like baseboards and leave behind smudges from the oil and dirt in their fur.
Odors: Droppings and urine from an infestation only worsen over time, and it'll start to have a distinct musky smell throughout your home.
Image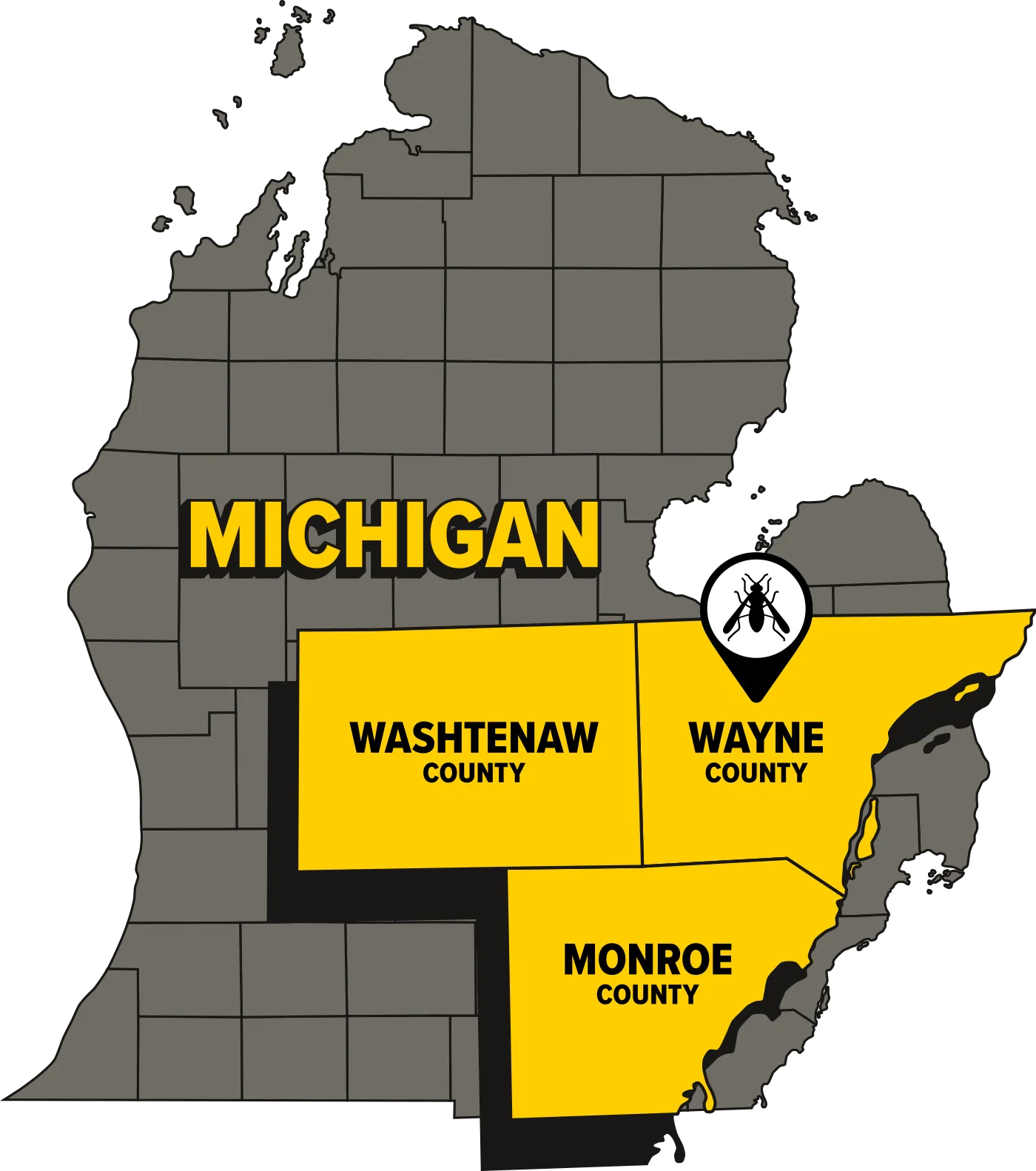 Rodent Control Service Area
No one wants to share their home with rats and mice, and with our services, you don't have to! We offer comprehensive rodent control that eliminates infestations while keeping your home protected year after year. Check out our rodent control service area: