Spider Control in Detroit
A spider infestation is a nightmare for many, and rightfully so. Sharing your home with spiders is not only uncomfortable, but they can also cause painful bites and leave behind unsightly cobwebs. For the relief you need, trust All Seasons Pest Control! We offer the best spider control in Detroit, backed by a satisfaction guarantee.
Guaranteed Results from Trustworthy Experts
We've been in the business since 1986, making us one of the most experienced pest control companies in the area. Our treatments really work, and our decades of happy customers are proof! But you don't have to just take our word for it. Our spider control comes with a satisfaction guarantee. If spiders persist after our visit, let us know, and we'll re-treat for free!
Year-Round Relief from Spiders
Spiders are most active in the fall and winter, but they can sneak inside during any season. To keep your home protected, we offer a year-round treatment program. Our exterminators will schedule regular visits throughout the year so we can prevent problems before they happen, as well as quickly eliminate any existing pests. This is our secret to lasting results!
When you choose our spider control in Detroit, we will:
Inspect your home to find the cracks and gaps that spiders are using as entrances.

Create a custom treatment plan based on your property's unique needs.

Treat along baseboards, rafters, windows and doors, and other problem areas.

Create a protective barrier around your home for long-term relief.

Answer any questions or concerns you have during treatment.
Signs of a Spider Infestation
Spiders usually don't hang out around people, which can make it tough to know when you have an infestation. Instead of looking for the pests themselves, here are some other signs of a spider problem that you can keep an eye out for. If any of these sound familiar, don't hesitate to give us a call!
Spider webs inside or outside your home.

Egg sacs, which are usually white and circular.

Droppings that resemble small splatters of dark-colored paint.

Lots of other insects around that spiders could be feeding on.

Mysterious bites that are red and inflamed.
Schedule Your Service Today!
At All Seasons Pest Control, we know how unsettling it is to find spiders in your home. That's why we never make you wait for relief! We're proud to offer same-day services when you call before noon. It's that easy—just give us a call, and we'll schedule your appointment, and our Detroit exterminators will take care of the rest.
Image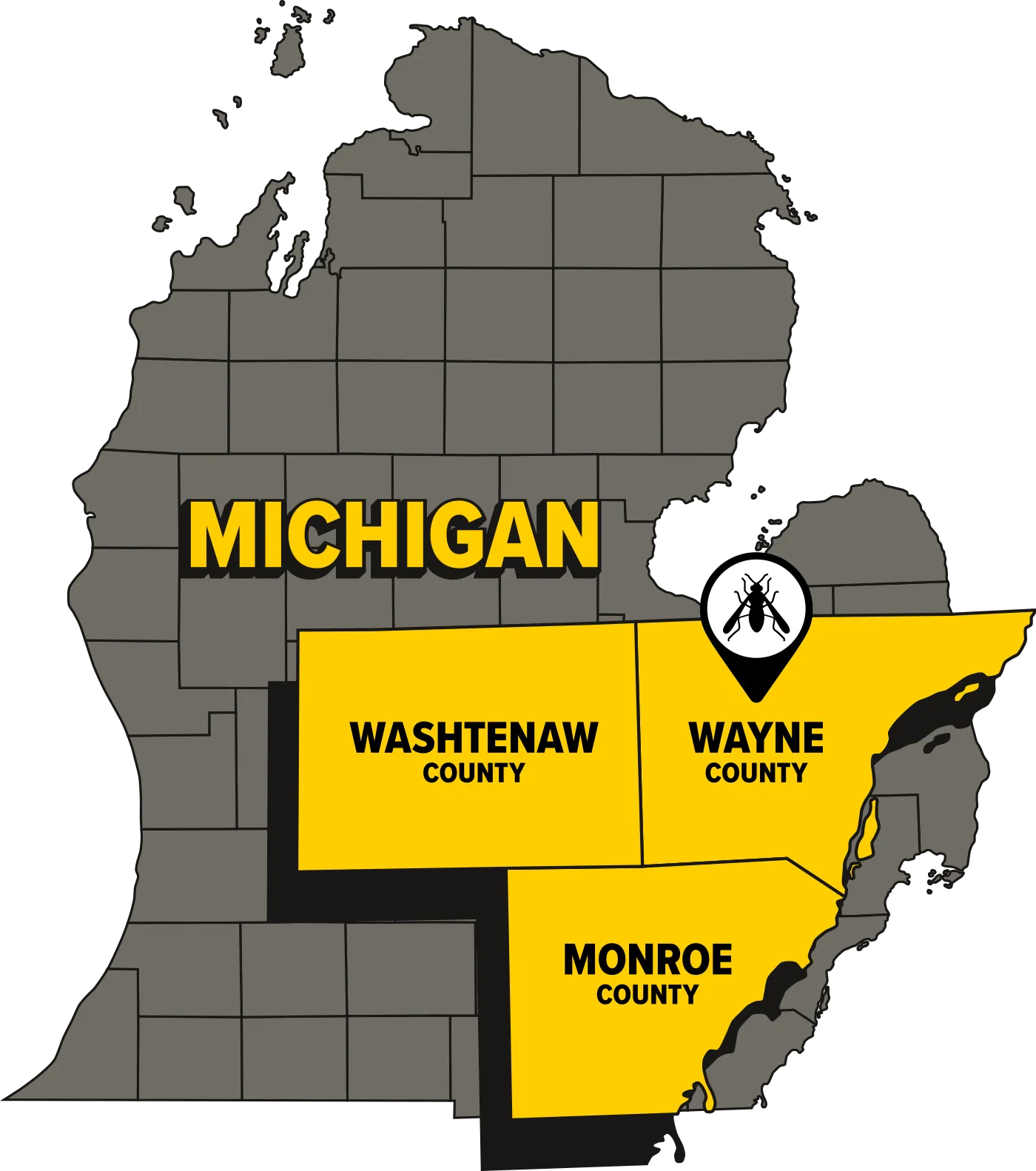 Spider Control Service Area
As a locally-owned pest control company, we take pride in helping our community and treat your home as if it were our own. Our spider exterminators won't stop until you're satisfied, so give us a call today if you're located in these cities: