Stinging Insect Control in Detroit
Once the weather warms up, you're not the only one enjoying the great outdoors. Wasps, hornets, and bees also become more active in the spring and summer. That means you're likely to cross paths, which puts you at risk for painful stings. Instead of letting pests keep you cooped up indoors, trust our stinging insect control! Our services will give you relief all season long and let you safely spend time outdoors.
We have solutions for a variety of insects, including:
Carpenter bees

Yellowjackets

Miner bees

Honey bees

Bumble bees

Paper wasps

Hornets

And more!
See Results With Personalized Treatments
There are countless factors that go into treating your specific pest problem. That includes the layout of your backyard, the type of insects present, and where their nests are. This means every infestation is completely unique, so we offer personalized treatments for the best results. That's customer service you can't get from store-bought solutions!
When you choose our stinging insect control, we will:
Talk with you to learn more about where you've seen pests and your concerns.

Complete a thorough inspection to determine the extent of the infestation.

Use products that are proven to work and are still safe to use around your family.

Treat affected areas to prevent future colonies from settling.
Get Rid of Wasps, Guaranteed
Stinging insects make it impossible to spend time outside without being constantly on guard and scared of being stung. For the peace of mind you deserve, trust All Seasons Pest Control. We know our wasp removal works, and we want you to feel just as confident. That's why it comes with a satisfaction guarantee! Give us a call for wasp removal in Detroit today.
How to Protect Your Home
It's best to leave stinging insect control to the professionals, but there are some things you can do on your own to make your property less appealing to pests. These suggestions are meant to help with prevention, not treatment. If you have any questions, don't hesitate to give us a call!
Fill in holes:

It's common to see wasp nests hanging from a tree or an eave, but some species make their homes in the ground. Regularly filling in holes and keeping a lookout for insects coming out of the ground can save you from going foot-first into an angry wasp nest.

Maintain your property:

Stinging insects build their nests in protected areas, which can include gaps in siding, holes in soffits, and under broken deck slats. Maintaining your property means you can catch those things before insects have a chance to move in.

Clean up food and drinks:

Cleaning up after an outdoor party or BBQ might not be the most fun activity, but it is an effective way to ward off pests. Foods and sugary drinks attract wasps, as well as other nuisances like rodents or ants.

Plant flowers away from your home:

Flowering plants attract bees, wasps, and hornets. Keeping your garden away from your home ensures they can pollinate your plants without migrating toward your living space.
Get Your Free Inspection Today
Family-Owned & Operated
As a family-owned pest control company in Detroit, we know how important your loved ones are! That's why you're our top priority. We've worked hard to design a treatment plan for stinging insects that's both safe and effective, so you can actually enjoy your time outside. Regardless of what buzzing bugs you have flying around, All Seasons is here to help!
Image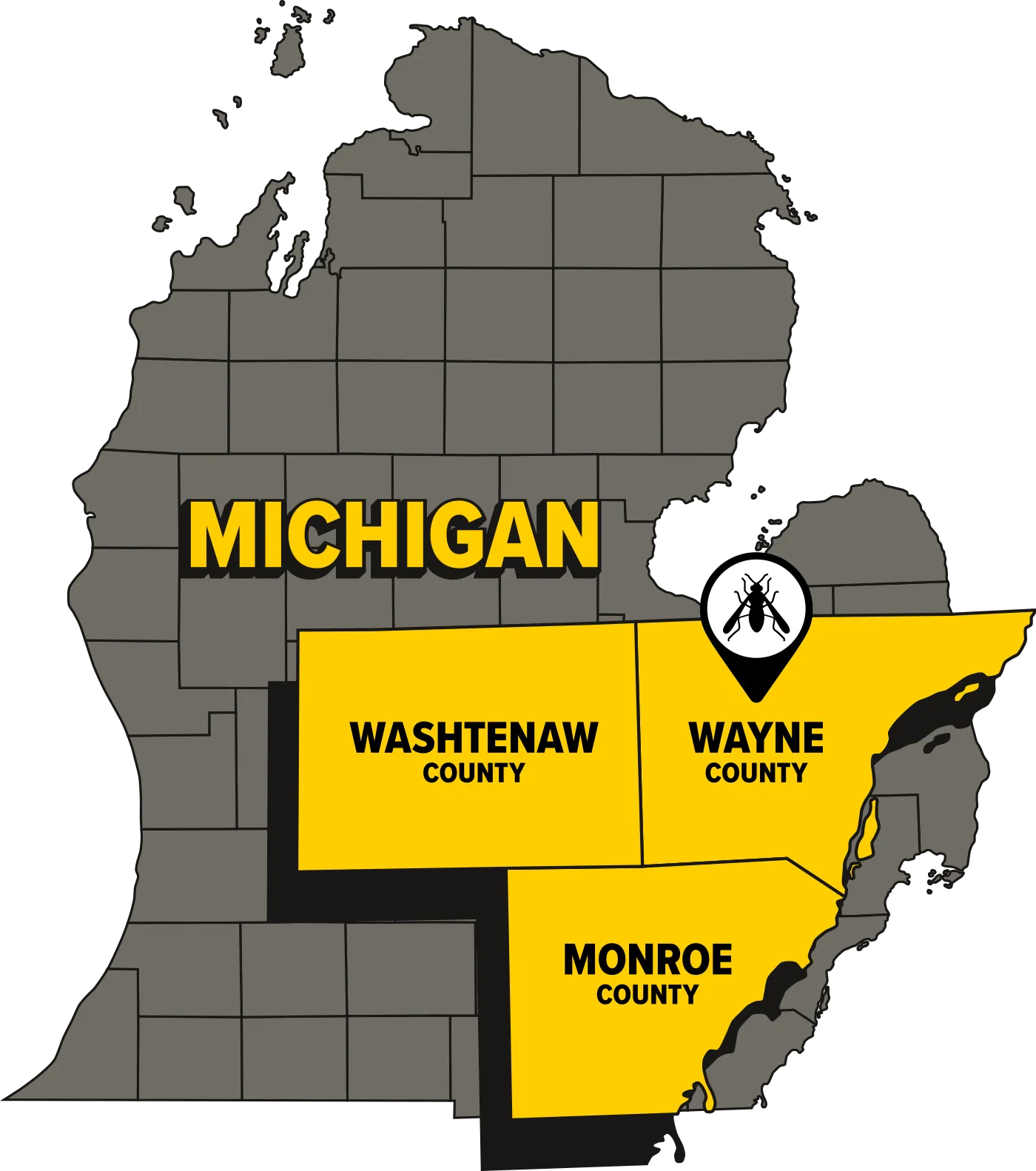 Stinging Insect Control Service Area
Whether it's wasps, bees, yellowjackets, or any other stinging insect: they don't belong in your home. As a locally-owned company, we take great pride in protecting our customers from these pesky bugs. See if we service your city!